Adidas and Ye, formerly known as Kanye West, had a longstanding, while acrimonious at times, successful partnership that dated back to 2013 with Ye acting as a creative director of the Adidas Yeezy product line that is estimated to have brought in about $2 billion a year and accounted for roughly 10% of Adidas' total revenue.
However, after Ye recently made several anti-Semitic remarks, and declared ". . . Adidas can't drop me . . .," Adidas did just that, terminating its partnership with Ye and ending the production and sales of Adidas' Yeezy products.[2]  Not only did the partnership end, but it cost Adidas an estimated $250 million this year alone and Ye roughly $1.5 billion of his net worth.[3]
Adidas, in a press release as part of the announcement, included a carefully worded statement that read in part "adidas is the sole owner of all design rights to existing products as well as previous and new colorways under the partnership."[4]  What exactly does that mean and how does this affect Adidas and Ye going forward?
It turns out that Adidas owns the rights to the designs of most of the Yeezy product line while many of the trademarks associated with the footwear, apparel and other merchandise such as "YEEZY," "YE," "YZY," "YEEZY SUPPLY," "YZYSPLY," "YEEZUS," etc. are owned by Ye's holding company, Mascotte Holdings, Inc.  There are notable trademarks related to the YEEZY product line, such as "SPLY-350," that are owned by Adidas.
While it is possible that there may be a legal challenge as to ownership of the designs, at least on the face of the patents reviewed, Adidas is listed as the sole owner of all patents filed for almost all Yeezy related products.  Kanye West is not listed as an inventor for any of the patents related to the Yeezy product line, with the one exception being the Yeezy Slide design that is owned by Mascotte Holdings and lists Kanye West as the inventor.
It appears that while Ye likely had creative input into the designs, he did not help conceive the designs or contribute to the conception of the designs for which Adidas filed for design patents.  Now Ye may dispute this, but as of now the designs for which Adidas filed for patent protection are solely owned by Adidas, and Adidas further emphasized this point in a recent statement by its CFO, Harm Ohlmeyer, in which he said "Let me be clear, we own all the IP, we own all the designs, we own all the versions and new colorways. It's our product," while conceding "We do not own the Yeezy name."
Representative figures of select U.S. design patents assigned to Adidas that depict Yeezy shoe designs appear below for reference.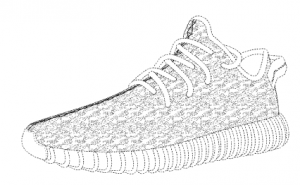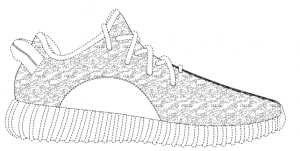 U.S. Design Patent No. D838,958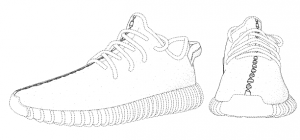 U.S. Design Patent No. D775,805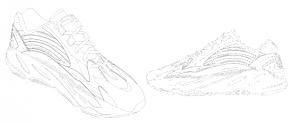 U.S. Design Patent No. D943,928
So even though Adidas has stated it owns all of the intellectual property excluding the Yeezy trademark, would Adidas actually sell Yeezy sneakers without the related trademarks and Ye being associated with the products? Apparently, the answer is yes.  Adidas announced that they plan to sell the Yeezy shoe designs next year under the Adidas brand.  Time will tell how the rebrand will be received by the public or if Ye will mount any legal challenges in the U.S. or abroad to the termination of their agreement, royalties or ownership of the footwear design rights.
[1] https://footwearnews.com/2022/business/retail/adidas-yeezy-deal-financial-worth-1203354402/
[2] See https://www.adidas-group.com/en/media/news-archive/press-releases/2022/adidas-terminates-partnership-ye-immediately/#:~:text=After%20a%20thorough%20review%2C%20the,Yeezy%20business%20with%20immediate%20effect
[3] https://www.forbes.com/sites/lisettevoytko/2022/10/25/billionaire-no-more-kanye-wests-anti-semitism-obliterates-his-net-worth-as-adidas-cuts-ties/?sh=5b99f8a17e78
[4] https://www.adidas-group.com/en/media/news-archive/press-releases/2022/adidas-terminates-partnership-ye-immediately/#:~:text=After%20a%20thorough%20review%2C%20the,Yeezy%20business%20with%20immediate%20effect