Last week, sadly, Eddie Van Halen passed away after a long battle with cancer.  Eddie along with his brother founded the band that bears their last name, Van Halen in 1972.  Over the years, the band produced hits that include "Jump," "Panama," "Why Can't This Be Love," "Runnin With the Devil," "When It's Love," "Eruption," "Ain't Talkin' 'Bout Love," and "Jamie's Cryin," along with many more.  Along the way the band gained a reputation for unusual concert riders that, among other things, required that M&M's be supplied in their dressing room with all brown M&M's removed.  The reasoning was not to be difficult or an aversion to a particular color, but rather a test to see if the concert promoter actually read the contract and therefore paid attention to detail and could meet all of the technical details that went into the band's production for that evening's performance.
While Eddie is widely considered one of the most influential guitar players of all-time, did you know that he was also an inventor?  As Eddie put it in 2015 Popular Mechanic Article "[i]'ve always been a tinkerer," which he attributed to his father.  His first guitar that he used in Van Halen was dubbed "Frankenstein" because Eddie made it by piecing together parts of other guitars.
Van Halen is listed as an inventor of several patents including U.S. Patent No. 4,656,917 (representative image below) that is directed to a stabilizing support for a musical instrument.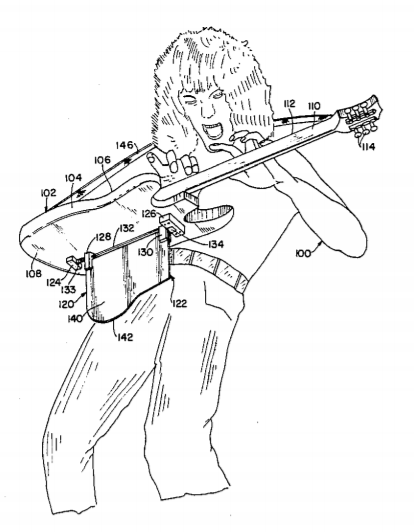 During Eddie's musical career he made popular the two-handed tap in which both hands are used to tap the guitar fretboard.  The supporting device of the '917 patent is configured, at least in part, to help achieve the musical effect by positioning a musical instrument mounted device "in a substantially perpendicular orientation to a musician's body to provide total freedom for the musician's hands to play the instrument in a completely new way . . ."  "Because the musical instrument is arranged perpendicular to the player's body, the player has maximum visibility of the instrument's entire playing surface." This is done by including "a plate which rests upon the player's leg leaving both hands free to explore the musical instrument as never before."
Another patent that Eddie obtained was U.S. Patent No. 7,183,475 for "A Stringed Instrument with Adjustable String Tension Control."  While stringed instruments are typically tuned prior to use, Eddie wanted to be able to adjust the tension of a guitar during a live performance, which is the intent of the tension control of the '475 patent.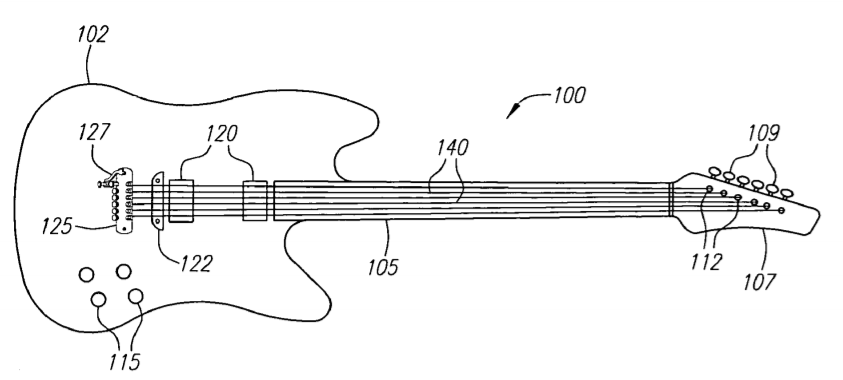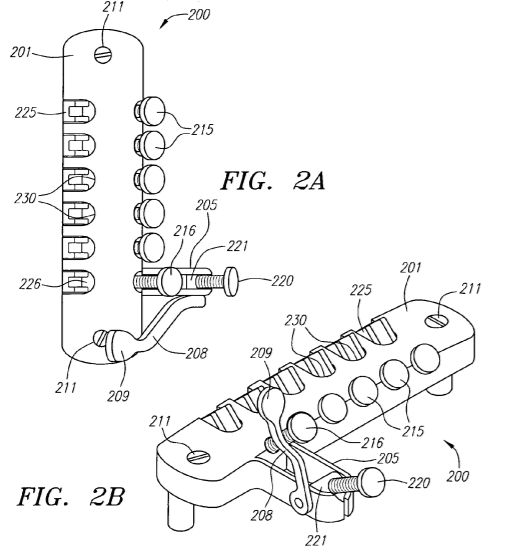 Yet another patent Eddie holds is for the ornamental design of a "Guitar Peghead" (U.S. Patent No. D388,117), which is the part of a guitar that holds the pegs that control the tension of the guitar strings.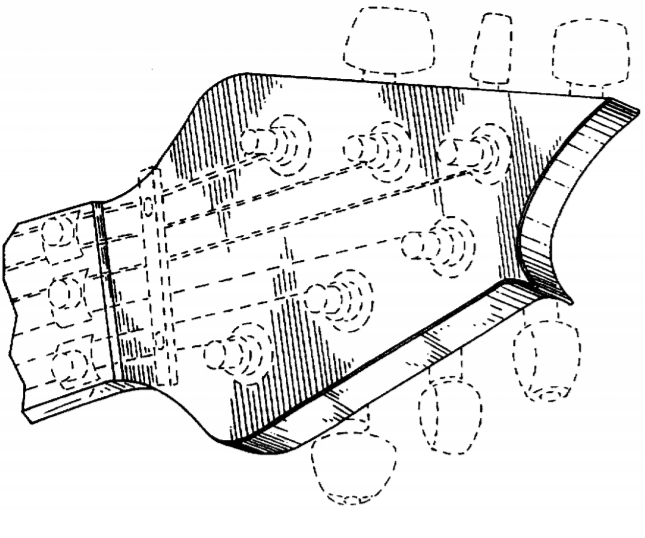 Other patents in which Eddie is listed as an inventor include the ornamental design of a "Humbuck Pickup" (U.S. Patent No. D817,385), which suppresses external noise while playing a guitar as well as a "Humbuck Pickup and Method of Providing Permanent Magent Extending Through Opposing Coils Parallel to String Orientation" (U.S. Patent No. 10,115,383).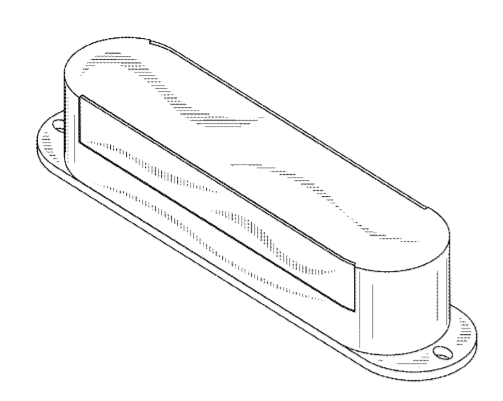 U.S. Patent No. D817,385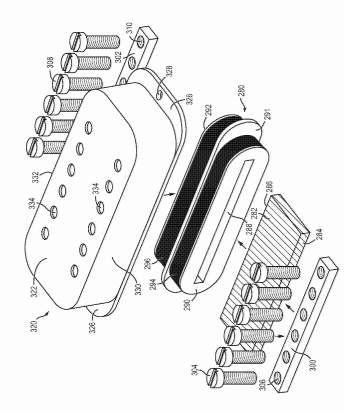 U.S. Patent No. 10,115,383
While Eddie may be gone, his innovations and contributions to music will continue to live on.