On December 20, 2018, the long-anticipated Farm Bill was enacted, legalizing hemp, and by extension CBD originating from hemp. As of the date of this article, marijuana is currently legal for recreational use in 11 states and Washington D.C.[1], and remains illegal at the Federal level.
Despite the legalization of hemp and its derivatives, the 2018 Farm Bill has only made negligible changes to the U.S. Patent and Trademark Office (USPTO)'s examination of trademarks for cannabis products and services. Even so, there are still viable strategies that can help to protect cannabis trademarks.
What is the Difference Between Cannabis, Marijuana, Hemp, and Cannabidiol (CBD)
Cannabis is the name of the plant that comes in two primary strains: Sativa and Indica. Each strain has their own properties. Marijuana consists of dried cannabis flowers and is a psychoactive drug that is used for medical and recreational purposes[2].
Hemp originates from the sativa strain, and only has minimal amounts of tetrahydrocannabinol (THC), which is the psychoactive compound in marijuana that makes people feel "high.[3]"
Cannabidiol (CBD) is a chemical found in cannabis. CBD derived from marijuana is illegal. However, CBD derived from hemp has only minimal amounts of THC[4], and can generally be considered legal under the 2018 Farm Bill. CBD is said to have properties that create feelings of well-being. Recently, CBD has become a popular ingredient in a variety of products.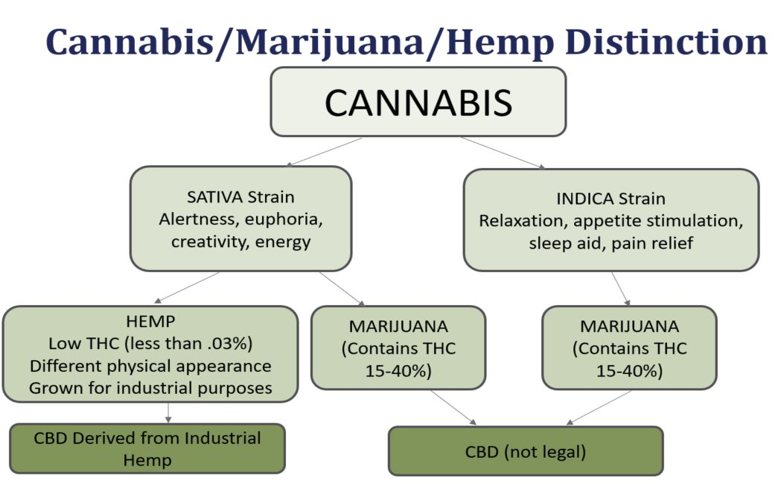 A Brief History of Cannabis, Marijuana, Hemp, and CBD Trademarks in the USPTO
Under the Controlled Substances Act (CSA), federal trademark protection is not permitted for most cannabis-derived products, even if recreational or medical cannabis is legal in the state where the Applicant is doing business.
However, this does not completely prohibit the registration of trademarks that include cannabis terminology within the mark or for goods or services that relate to cannabis, marijuana, hemp, or CBD.
What Can and Can't Be Trademarked? The Question of "Plant Touching"
As long as the products themselves don't contain marijuana and are not meant for direct use with marijuana (not plant-touching), then there can be federal trademark protection.
Examples of what you cannot register ("plant-touching"):
Goods (products)
Services
•Food and drink (cakes, cookies, candy, coffee, olive oil, jerky, bars)

•Pharmaceutical (medicine, supplements and topical products)

•Drug paraphernalia (vaporizers, bongs, pipes) for use with cannabis products

•Marijuana plant strains

•Retail or wholesale stores that sell marijuana

•Transportation or distribution of marijuana

•Marijuana cultivation

•Dispensaries or pharmaceutical services
Examples of what you can register (not plant-touching):
Trademark
Goods/Services
Registration No.
Clothing
5626531
GANJA GOURMET
Cook books
5388590
TAKE THE STRAIN OUT OF YOUR SEARCH
Marijuana and cannabis search engine
5662406
Marijuana and hemp business consulting
5109912
Mobile app with information on cannabis strains, effects, dispensaries, their locations and inventory.
Marketing services and inventory monitoring
Online cannabis community with ratings and reviews
Medical information related to medical marijuana strains
5633692
Hemp and CBD Trademarks – The First Frontier
In recent years, there has been an explosion of new products containing CBD, ranging from soaps to snacks. This has been followed by a flurry of U.S. trademark applications.
Prior to December 2016, the USPTO permitted registration of CBD trademarks, as they were viewed to fall outside of the scope of the CSA's definition of marijuana. In December 2016, the USPTO halted approval of CBD trademarks due to the enactment of Drug Code 7350[5]. The USPTO effectively interpreted Drug Code 7350 to include CBD within the CSA's definition of marijuana, with very limited exceptions. The USPTO then started to issue refusals of 'plant-touching' CBD trademarks as violating the CSA and the Food, Drug and Cosmetic Act (FDCA). The FDCA refusal applies specifically to consumables, such as pharmaceuticals, supplements, topical medical products, food, and drink.
When it seemed likely that the 2018 Farm Bill would be signed into law, the USPTO appeared to stall the review of hemp and CBD trademarks. However, even after the Farm Bill was enacted on December 20, 2018, there still was no clear path for hemp and CBD trademark protection. The USPTO clarified its position on cannabis trademarks in May of 2019, with the release of Examination Guide 1-19 "Examination of trademarks for cannabis and cannabis related goods and services." See: https://www.uspto.gov/sites/default/files/documents/Exam%20Guide%201-19.pdf.
This guide acknowledged that hemp was now exempt from the CSA's definition of marijuana. "Cannabis plants and derivatives including CBD, which contain no more than 0.3% THC on a dry weight basis, are not within the CSA's definition of controlled substances." The guide also required pending applications for hemp and CBD products filed before the 2018 Farm Bill to amend their filing date to December 20, 2018 and change any "use-in-commerce" basis into "intent-to-use." Also, the goods would need to specify that they contained less than "0.3% THC." Compliance with these requirements would preserve the pending application and remove the CSA refusal.
However, the guide emphasized that the 2018 Farm Bill "explicitly preserved FDA's authority to regulate products containing cannabis or cannabis-derived compounds under the FDCA." This meant that the FDCA refusal would still be a barrier to federal trademark registration, despite the legalization of hemp. In effect, the only change that the 2018 Farm Bill made on USPTO trademark examination was that it now permitted the registration of non-medical cosmetics and beauty products containing hemp and/or CBD. However, consumables containing CBD, such as pharmaceuticals, supplements, topical medical products, food and drink and even pet foods were still subject to refusal under the FDCA.
What Strategies Can Help?
Marijuana legalization is expected to take the same path as gay marriage. Gay marriage was slowly legalized state-by-state, until it was eventually wholly legalized in June 2015 by the U.S. Supreme Court. This is good news for cannabis businesses. The problem is that many cannabis-themed trademarks have and continue to be adopted and/or filed in the USPTO (many of which end up abandoned). How can the owner of a federally illegal cannabis business protect their federal trademark rights when trademarks for most cannabis products are not registrable?
The most practical answer is through the registration of a trademark for related or similar goods and services. While this strategy has not been tested, it is arguably viable to help preserve future trademark rights, once cannabis is fully and federally legal.
Example: Applicant sells LET'S GET HIGH baked goods in Colorado, which contain marijuana and which is legal in the state. Applicant also sells cookbooks, aprons, t-shirts, cake stands, mugs, cake knives, baking molds, and operates a marijuana baking blog. This latter list of goods is not plant touching and should be registrable, even though the mark LET'S GET HIGH makes reference to marijuana.
Filing a trademark for related goods or services can protect the brand owner's trademark from confusingly similar trademark registrations, at least until marijuana is federally legalized and can itself be protected. The main caveat to this strategy is that the USPTO may not agree that the goods are related and could allow an identical or highly similar mark to coexist, which would bar the future marijuana products from securing a trademark registration. For example, an Examiner may not deem cake stands related to baked goods, so a trademark registration for cake stands would not prevent registration of an identical or highly similar trademark application for cakes. Therefore, it is important to devise a strategy to ensure that the goods and/or services are as highly related as possible to the illegal goods and/or services. Also, even if the USPTO views the goods and/or services to be related and issues a confusion refusal, there is always the chance that an applicant could successfully overcome the refusal.
Final Note – It is Foolish to Fool the USPTO
It is never advisable to try to fool the USPTO by disguising a trademark, or broadening the goods or services to imply that they are unrelated to cannabis, or using 'legal' euphemisms for cannabis such as "herbs" or "flowers." Trademark Examiners are typically not fooled by these attempts, and if required, will ask additional questions or conduct research to ascertain the true nature of the goods. A telling example was a trademark application for ULTRA TRIMMER for "Agricultural machines, namely, a trimming machine for trimming leaves, plants, flowers and buds." Neither the mark, nor the goods made any reference to marijuana.
The Trademark Examiner refused registration of ULTRA TRIMMER, and this refusal was affirmed by the Trademark Trial and Appeal Board (TTAB). The TTAB considered the product to be "illegal drug paraphernalia" as defined by the CSA and refused registration[6]. The tipoff was that the specimen of record, and the Examiner's review of the Applicant's website, both of which indicated that this product was for marijuana cultivation.
This type of misleading practice is not advisable. Even if the application gets past examination, it may be difficult or impossible to defend the trademark against infringement and/or the trademark may be vulnerable to an opposition or a non-use cancellation by an interested third party.
Cannabis brand owners should consult with Gottlieb, Rackman and Reisman, P.C. to ensure well-planned strategies in securing protection of their brand, in anticipation of eventual federal legalization.
[1] https://www.businessinsider.com/legal-marijuana-states-2018-1
[2] https://www.cdc.gov/marijuana/faqs/what-is-marijuana.html
[3] https://weedmaps.com/learn/the-plant/hemp-vs-marijuana/
[4] https://www.webmd.com/vitamins/ai/ingredientmono-1439/cannabidiol-cbd
[5] https://www.deadiversion.usdoj.gov/schedules/marijuana/m_extract_7350.html
[6] http://ttabvue.uspto.gov/ttabvue/ttabvue-86479070-EXA-8.pdf