The COVID-19 pandemic has changed a lot of things, but it has not changed the trademark related scams faced by U.S. trademark applicants and registrants.  Unfortunately, those scams are alive and well.
Fraudulent Trademark Communications
In September 2020, the Trademark Office warned owners of U.S. trademark applications and registrations to be on the lookout for fraudulent e-mails appearing to originate from the Trademark Office's domain, @uspto.gov. According to the Trademark Office, these e-mails: 1) spoof the Trademark Office e-mail address (e.g., noreply@uspto.gov); 2) falsely claim that the Trademark Office has a new policy requiring separate registration of "clients" and that there is a "penalty" for not complying; and/or 3) provide incorrect Trademark Office filing information (e.g., incorrect fee information).
This is only the latest in a long line of scams perpetrated on U.S. trademark applicants and registrants.  For years, they have received solicitations from private companies offering legal services, assistance with filings, or other services, such as recording trademarks in a private registry.  Such solicitations usually come from companies with names that sound like government agencies and usually include data that is publicly available from the Trademark Office's records.
Below are images of redacted solicitations received by some of our clients, who sent them to us in order to check on whether they needed to avail themselves of the services in the solicitations.
The Trademark Office maintains a list of potentially misleading offers or notices, which can be found here.  If you receive a notice from an entity that is not on the list, the Trademark Office asks that you contact them at TMScams@uspto.gov with a copy of the solicitation and the envelope in which it came.  The World Intellectual Property Organization similarly maintains a list of examples of solicitations regarding international applications and registrations, available here.
Domain Name Communications
It is also common for our clients to forward us e-mails that they have received from someone claiming to work for an Asian domain name registration company, asking if the trademark owner authorized a particular company (which may or may not exist) to register domain names incorporated the trademark owners' trademark.  These e-mails usually look something like this (we have redacted the text to shield our client's identity):
Dear Manager,
(If you are not the person who is in charge of this, please forward this to your CEO,Thanks)
This email is from Network Service Company, which mainly deals with domain name registration in China. We received an application from HuaYi Co Ltd on today. They want to register "TRADEMARK" as their keyword and China/Asia (CN/ASIA) domain names. But after checking it, we find this name conflicts with your company. In order to deal with this matter better, so we send you email and confirm whether this company is your distributor or business partner in China or not?.
Below is another typical e-mail, which we have also redacted:
Dear TRADEMARK OWNER,
Based on your company having no relationship with them, we have already advised them to choose another name, but they insist on this name as China domain names ( TRADEMARK.cn/ TRADEMARK.com.cn/ TRADEMARK.net.cn/ TRADEMARK.org.cn) and internet keyword. In our opinion, maybe they do the similar business as your company then register it to promote his company.
As is known to all, domain name registration based on the international principle is opened to company and individual. Any company or individual have the right to register any domain name and internet keyword which are unregistered. Your company haven't registered this name as China domains and internet keyword, so anyone is able to obtain them by registration. But in order to avoid this conflict, the trademark or original name owner have priority to register China domain name and internet keyword during our review period. If your company is the original owner of this name and wants to register these China domain names ( TRADEMARK.cn/ TRADEMARK.com.cn/TRADEMARK.net.cn/ TRADEMARK.org.cn) and internet keyword to prevent anybody from using them, please inform us. We can send you an application form with price list to help your company register these China domains and internet keyword during our review period.
It is important to note that in virtually every country, there is no system that checks to see whether a domain name corresponds to a registered trademark, or whether the party seeking to register the domain name is the owner of a corresponding registered trademark.  The goal of these e-mails, at best, is to trick the recipient into registering domain names that they do not need by making them think that someone else is about to register them.  If you are concerned about a third-party registering domain names corresponding to your trademark, you can register domain names on your own, or contact our office for assistance.
Beware of Low-Cost Trademark Agencies
A recent arrest in Karachi, Pakistan illustrates how important it is to know with whom you are working.  In January, the Pakistani Federal Investigation Agency ("FIA") arrested the CEO of a company called Diagnostic Labs on charges alleging money laundering, harassment, fraudulent activities, identity impersonation, cheating, phishing and extortion.  Diagnostic Labs apparently operated a network of over two hundred fraudulent websites targeting customers outside of Pakistan, offering logo design, website creation and ghostwriting services, and, in at least four instances, trademark filing services.
According to the FIA, the websites offered low-cost services.  Once a customer would pay, the websites would ignore the customers and later demand additional payments, often charging credit cards without authorization.  Employees pretending to be employed by the U.S. Trademark Office would warn clients that their businesses would be blacklisted at the Trademark Office unless they paid more money.  About 70 to 75 percent of clients utilizing the trademark filing services would receive a fake trademark registration certificate purporting to be from the U.S. Trademark Office.  One employee was apparently told that there was some kind of arrangement with the U.S. Trademark Office.
One of the websites operated by Diagnostic Labs even uses a color scheme similar to that used by the U.S. Trademark Office, as well as the U.S. Trademark Office's logo: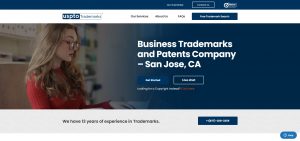 Above, a Diagnostic Labs website.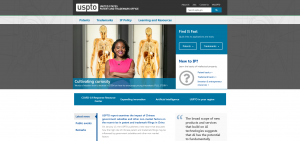 Above, the U.S. Trademark Office's website.
As with anything else, it is best to do a little due diligence before providing someone with your credit card information.
What Should You Do if You Think You Have Been Scammed or Received a Misleading Communication?
While the U.S. Trademark Office does not want anyone to be victimized by scammers, its official position is that it does not have the legal authority to stop private companies from sending trademark-related offers and notices or to use or prosecute entities that defraud or attempt to defraud applicants and registrants.
If you do receive a communication about one of your trademark applications or registrations from someone you do not recognize, do not respond or pay any fees without first verifying that the communication is legitimate.
You can also file a complaint with the Federal Trade Commission (but be aware that it does not resolve individual consumer complaints; rather it investigates widespread complaints about particular companies or business practices).
And, of course, you can always reach out to your GRR attorney to check on the status of your application or registration, and whether anything you receive via e-mail or postal mail is legitimate.