This article was originally published in "The Connector" magazine in September 2015.
In an important victory for Mardi Gras parade goers, the Fifth Circuit returned the tradition of twisting parade beads into the shape of dogs back to the Mardi Gras public and its bead dog aficionados.
Haydel Enterprises, Inc. operates a bakery in New Orleans well-known for its traditional Mardi Gras king cakes and commissioned an artist to design a mascot named Mardi Gras Bead Dog (pictured below).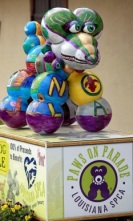 Haydel's Bakery owns registrations for the name MARDI GRAS BEAD DOG and for the design, seen in this line-drawing illustration:

Both registrations cover jewelry, clothing and king cake pastries. Haydel also received a copyright registration for its bead dog design. A portion of the proceeds from the sale of Mardi Gras Bead Dog merchandise is donated to a charitable organization each year.
In 2012, Nola Spice Design began selling jewelry which also featured a bead dog design. Shortly after receiving a cease and desist letter from Haydel, Nola Spice sought to cancel Haydel's trademark registrations on the grounds that the marks were descriptive of a popular Mardi Gras tradition. Nola Spice prevailed and Haydel's trademark registrations were cancelled.
On Haydel's appeal to the Fifth Circuit, the Court found that a "bead dog" is a common term for describing a dog made from Mardi Gras-style beads and that competitors need to use the phrase "Mardi Gras bead dog" to describe their own products.
Haydel did not fare any better with regards to its claims of copyright infringement against Nola as the Court found no substantial similarity between the protectable elements of Haydel's copyright for its bead dog design and Nola's bead dog jewelry.
All's well that ends well: Both Haydel and Nola Spice can continue to make Mardi Gras bead dog jewelry, and Mardi Gras festival goers may even expect to see a lot more bead dog merchandise in the years to come.