The metaverse is as real as digital gets.  Think of the metaverse as a digital universe, with galaxies populated by stars and planets, all interconnected by black space.  It is at least as big and as varied as the universe.  Wikipedia defines the metaverse as "a network of 3D virtual worlds focused on social connection. In futurism and science fiction, it is often described as a hypothetical iteration of the Internet as a single, universal virtual world that is facilitated by the use of virtual reality (VR) and augmented reality (AR) headsets."  The metaverse is truly a new frontier, unregulated and open to as many possibilities as creative minds can imagine.  Now that we have grown accustomed to working from home, and working by ourselves in our own spaces, more than just the gamers among us, who interact with each other via avatars, will frequent the metaverse.
The ease that people now have with interacting through social media and the consequences of the pandemic have served to spur the acceptance of this new digital reality aptly named the metaverse.  The term was coined by author Neal Stephenson in his 1992 novel "Snow Crash", where he wrote about life-sized avatars who met in lifelike spaces such as buildings and other "real-like" 3-D environments created in virtual reality.
Your avatar is you in that virtual space, and you can even have multiple avatars.  You can look like what you want and can own what you want to own.   You can buy a premade avatar or customize it down to the length of your eyelashes.   You can own what you can buy, and earn a living in any way you wish to earn it.  You can provide services in exchange for money or things….including unconventional ones like slaying a dragon in exchange for armor you might need.  Want 5 HERMES bags, 25 pairs of MANOLOS or a CHANEL suit or two for your avatar? Want a javelin?  No problem.  You can pay with your crypto wallet or perform services that allow you to purchase those luxuries or necessities.  Maybe you want to develop your own line of virtual footwear or clothing?  Sure, if you know how to market, you can create goodwill for an entirely new brand of virtual goods that has no real-world counterpart. You never have to sew an actual garment, but you can quickly Photoshop one and create an on-line clothing store.  Maybe one of your friends has created a mall, and you can rent out space there and showcase your flagship store.  It should be obvious by now that brands, as in real life, will be important in digital life as well because brands distinguish the goods you sell and the services you perform from those that others sell and perform.
Brand owners have taken note.  Top brands have already filed thousands of trademark applications for goods and/or services offered in the new virtual environment.  Cosmetics giants like L'Oréal have filed trademark applications with the U.S. Trademark Office.  Similarly, clothing companies like Victoria's Secret, Ralph Lauren, Abercrombie, DKNY, Under Armor have their own trademark filings covering activities in the metaverse. Entertainment giants like Disney and Blockbuster have filings. The same is true of footwear companies Nike, Levi's, Sketchers, Puma, Kobe Bryant and New Balance. Even McDonalds and Pumpernickel Associates of Panera (the bread company) have new trademark filings to cover business in the metaverse.  Indeed, Pumpernickel Associates filed to register a coined composite mark that it did not already own: PANERAVERSE.  And that's the point.  Brand owners can develop trademarks that are specific to the metaverse environment such as PANERAVERSE. [1]
Brand owners can obtain registrations of their current marks.  As an example, Levi Strauss has filed to register its famous logo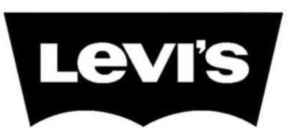 on "downloadable virtual goods, namely, digital images, digital clothing, and digital graphic designs authenticated by non-fungible tokens created with blockchain technology to represent a collectible item in Class 9, online retail store services featuring virtual goods, namely, clothing, footwear, headwear, eyewear, bags, fashion accessories, images, and videos for use in virtual online environments and virtual online fashion shows in Class 35 and entertainment services, namely, providing on-line, non-downloadable virtual goods, in the nature of clothing, footwear, headwear, eyewear, bags, fashion accessories, images, and videos for use in virtual online environments and virtual online fashion shows in Class 41.
And companies that have no physical business or brand can create digital businesses and brands.  Who knew that the stroke of a key could create a business?
The Trademark Office's identification manual is keeping pace with what companies are seeking to register.  A popular ID is "retail store services featuring virtual goods, namely, [things] for use in online virtual worlds' in Class 35, as is "providing an on-line forum for trading virtual real estate" in Class 38 and "entertainment services, namely, providing virtual environments in which users can interact for recreational, leisure or entertainment purposes in Class 42 and "financial services, namely, providing a virtual currency for use by members of an on-line community via a global computer network" in class 36 . The word "virtual" at present appears in 80 (yes, 80) prepopulating Trademark Office  IDs, but some of course are a mix of real world goods or services that have virtual aspects such as "gun firing ranges featuring virtual shooting simulators in Class 41.  The term "virtual" appears in the goods and services of over 49,000 active marks, the bulk of which are yet to register.

So while the metaverse is indeed virtual, it is very much real and happening faster than you could even imagine it would or could – we are now or will soon be a virtual society where people can escape their woes and spring into other beings.
[1] This application covers three classes including Class 9 for "Downloadable virtual goods, namely, food items and beverages for use in virtual worlds; downloadable virtual goods, namely, computer programs featuring access tokens for use in online virtual worlds; downloadable computer software, namely, non-fungible tokens (NFTs) for facilitating commercial transactions; downloadable software for viewing non-fungible tokens (NFTs); downloadable software for use in electronically storing, sending, receiving, accepting and transmitting non-fungible tokens (NFTs); downloadable software for use in creating and participating in virtual environments; downloadable software for use in creating, editing and modifying avatars and virtual images that can be posted, shared and transmitted via multi-media messaging (MMS), text messaging (SMS), email, online chatrooms, global communication networks, and other communication networks; downloadable software for creating and broadcasting avatars across online social media and digital platforms; blockchain software; software for use with digital currency, crypto currency and virtual currency; software which facilitates the ability of users to view, analyze, record, store, monitor, manage, trade and exchange digital currency, virtual currency, cryptocurrency, digital and blockchain assets, digitized assets, digital tokens and crypto tokens; downloadable cryptographic keys for receiving and spending crypto assets; downloadable loyalty cards, incentive cards, reward cards that may be redeemed for or used towards the purchase of menu items; downloadable mobile application for ordering food; downloadable mobile applications for ordering food and drink, viewing menu options, GPS navigation for tracking orders and delivery of food and drink, and facilitating payment for food and drink; downloadable mobile applications for ordering and managing customer accounts; none of the aforesaid relating to watches and jewelry,"  Class 35 for "advertising; retail store services featuring virtual goods, namely, food items and beverages; digital retail store services featuring downloadable and non-downloadable virtual goods in the nature food items and beverages; retail store services featuring virtual goods, namely, access tokens for use in online virtual worlds; conducting an incentive program whereby individuals can earn real world and virtual rewards; arranging and conducting incentive reward programs to promote the sale of food and beverages; providing a website featuring consumer product information in the fields of food and beverage, restaurants and food services; computerized online ordering services in the field of restaurant take-out and delivery; administration of a customer loyalty program which provides registered customers with free and discounted menu items; administration of a rewards program featuring virtual rewards that can be redeemed in the real or virtual world; customer loyalty services and customer club services for commercial, promotional and/or advertising purposes in the field of food and beverage sales and service; organizing and conducting volunteer and community services programs; subscription-based order fulfillment services in the field of coffee; retail store services featuring coffee, coffee subscriptions, promotional apparel, mugs, tumblers, and coffee brewing equipment; computerized online ordering services in the field of retail and restaurant take-out and delivery; none of the aforesaid relating to watches and jewelry," and Class 41 for "entertainment services, namely, providing on-line virtual restaurants and cafes in virtual environments created for entertainment purposes; entertainment services, namely, providing on-line, non-downloadable virtual food items and beverages for use in virtual environments; education and entertainment services, namely, arranging, organizing, and conducting cooking instruction classes in bakery cafes; arranging, organizing and conducting bakery-cafe tours for educational and recreational purposes; entertainment services, namely, providing an on-line virtual restaurant wherein users can earn reward points and virtual currency which may be used to purchase food and beverages; entertainment services, namely, providing on-line, non-downloadable virtual gifts, gift certificates, rewards, points, incentives, prizes and emotes for use in virtual environments created for entertainment purposes."