Visitors to Medieval Times castles in New Jersey and California may be getting more than the tournament and royal feast they are expecting—they'll be walking right into a trademark infringement dispute between Medieval Times and Medieval Times Performers United ("United"), a union representing some of the performers.
United was formed after employees at the Lyndhurst, New Jersey castle won a vote to unionize in July.  Medieval Times filed its lawsuit in October.  The lawsuit, which is still pending (United has not yet responded), alleges that United infringes on Medieval Times' alleged trademark rights in several ways.  Its main claim is that United infringes because it uses "Medieval Times" in its name.  The lawsuit also claims infringement based on United's use of the logo shown below, since the logo features a castle and swords, and uses a font which, while different from that used by Medieval Times, is meant to evoke the Middle Ages.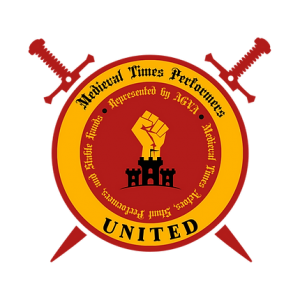 According to the complaint, the "crossed swords and crest-style symbol are similar to décor and souvenirs at Medieval Times," the "Castle in [the] logo is similar to Medieval Times's castles," and Medieval Times uses a red and yellow color scheme (this color scheme is likely connected to the fact that, as alleged in the complaint, Medieval Times has its origins in Spain, a nation with a red and yellow flag).
The complaint also points to the fact that United's website advises how to contact the unions "at the castle in Lyndhurst NJ" and "at the castle in Buena Park, CA," as well as the presence of images on United's website of union members, some of whom are wearing their costumes.  Further, the complaint alleges that United is selling shirts bearing the logo shown above.
According to Medieval Times, it needs relief from the court because consumers are likely to be confused into thinking that it endorses, sponsors or is affiliated with United (Medieval Times laments in its complaint that United does not have a disclaimer on its website).
In response to the lawsuit, United filed a complaint with the National Labor Relations Board, claiming that the trademark infringement lawsuit was in essence retaliation for forming a union.
In recent years, it has not been uncommon for union names to feature the names of employers, such as Starbucks, Trader Joe's, Apple, Home Depot, and Amazon.  This is a change from prior practice where unions represented an entire trade.
So who is going to prevail in this legal joust?  While that remains to be seen, United does have some good arguments on its side.  The goal of trademark law is to prevent consumer confusion, not to grant a trademark owner a monopoly on the use of their mark.  Medieval Times' complaint does not allege that consumers have actually been confused, and such confusion seems unlikely.  Particularly in view of the fact that other unions use the name of their employers, consumers will probably not be confused into thinking that Medieval Times endorses or sponsors United.
Moreover, the trademark doctrine of nominative fair use permits use of another's trademark to refer to the goods and/or services associated with the mark. Nominative fair use is generally permissible as long as: (1) the product or service in question is not readily identifiable without use of the trademark; (2) only so much of the mark as is reasonably necessary to identify the product or service is used; and (3) use of the mark does not suggest sponsorship or endorsement by the trademark owner. For example, one could refer to "the professional hockey team from Long Island," but it is simpler and more understandable to say the New York Islanders.  The allegations in Medieval Times' complaint seem directed to establishing that United has used more than is reasonably necessary and that what it has used suggests sponsorship by Medieval Times; if the case moves forward, it is these two elements that we would expect to be the focus of the case.
If Medieval Times is successful, we would anticipate seeing more employers filing trademark infringement cases to prevent the use of their trademarks by unions representing their employees.  For now, though, we will have to wait for the court to declare the winner of this tournament.