The Kardashians have been frontrunners in celebrity branding and are certainly no strangers to the importance of protecting their famous names with the U.S. Patent and Trademark Office.
More than seven years after the launch of the brand KARDASHIAN BEAUTY by Kim Kardashian and her celeb sisters for a line of hair and cosmetic products, brand-savvy Kim has made several attempts at developing the next mega-brand.  After filing numerous intent to use applications of the marks KKW, KKW BEAUTY, KKW FRAGRANCE, KKW SKIN and KKW HOME over the past three years for use on an extensive line of beauty, skin, fragrance, apparel, toy, home furnishing products and retail store services on behalf of her company Kimsaprincess Inc., along with taking the California bar exam, the recently separated Kardashian is back at the USPTO with an entirely new brand which incorporates her initials sans the "W." On March 30, 2021, Kimsaprincess Inc. filed 19 intent-to-use applications of the mark SKKN BY KIM covering a wide variety of goods and services which extends beyond beauty and entertainment services   The details of all 19 applications reflecting the wide range of goods and services intended to be marketed, sold and distributed under the SKKN BY KIM brand are:
| | | |
| --- | --- | --- |
| MARK | APPLICATION NO. | GOODS/SERVICES |
| SKKN BY KIM | | Beauty salon services; skincare services; nail salon services; hair salon services; health and beauty spa services, namely, cosmetic face and body care (Class 44) |
| SKKN BY KIM | 90613562 | Entertainment in the nature of providing information by means of a global computer network in the fields of entertainment and pop culture; entertainment services in the nature of television and multimedia program series featuring pop culture and subjects of general human interest distributed via various platforms across multiple forms of transmission media (Class 41) |
| SKKN BY KIM | 90613548 | Retail store services featuring skin, cosmetics, hair, nail and beauty products, tools and accessories, fragrances, perfumes, candles, vitamins and supplements, home, bedroom and bathroom furnishings and accessories, and spa, bath and shower products, tools and accessories; arranging and conducting special events for commercial, promotional or advertising purposes; advertising services, namely, promoting the brands, goods and services of others; endorsement services, namely, promoting the goods and services of others; providing information about commercial business and commercial information via the global computer network; advertising, marketing and promotion services (Class 35) |
| SKKN BY KIM | | Bath mats; rugs; floor mats; floor coverings; wallpaper; personal exercise mats (Class 27) |
| SKKN BY KIM |   90613510 | Hair accessories, namely, Hair barrettes, Hair bands, Hair bows, Hair clips, Hair ties; Hair ornaments in the form of combs, Hair pins, Hair scrunchies, Hair chopsticks, Hair twisters and Hair wraps; Hair extensions; Ornamental novelty pins (Class 26) |
| SKKN BY KIM | 90613501 | Shower caps; Belts; Bottoms as clothing; Coats; Dresses; Footwear; Gloves; Headbands; Headwear; Jackets; Loungewear; Scarves; Sleepwear; Socks; Swimwear; Tops as clothing; Undergarments (Class 25) |
| SKKN BY KIM | | Towels; washcloths; bath mitts; shower curtains and liners; textiles for home furnishings, namely, household linens, bath linens, bed linens, kitchen linens and table linens; drapery; afghans; throws; comforters; bed blankets (Class 24) |
| SKKN BY KIM | 90613479 | Sponges used for applying make-up; makeup sponge blenders, namely, sponges used for blending make-up; hair brushes; electrically heated hair brushes; hair combs; makeup brushes; applicator wands for applying make-up; power-operated brush used to clean and exfoliate the skin; hand-operated brush used to clean and exfoliate the skin; applicator wands for applying toners, serums, lotions and creams to the skin; applicators sold empty for applying toners, serums, lotions and creams to the skin; electric aromatherapy diffusers; bath products, namely, body sponges and loofah sponges; bathroom caddies for household use; bath accessories, namely, cup holders, toothbrush holders, toilet paper holders, soap dishes and soap dispensers; wastebaskets; trays for domestic purposes; household containers for storing and organizing cosmetics, cosmetics accessories, skincare and skincare accessories; baskets for household purposes; bowls; candle holders; containers for household use; exfoliating mitts; eyelash combs; eyelash brushes; serving ware for serving food and drinks; dishes; beverageware; buckets; coasters, not of paper or textile (Class 21) |
| SKKN BY KIM | 90613460 | Mirrors; vanity mirrors; personal contact mirrors; furniture; picture frames; pillows; Interior window blinds; interior window shades; non-metal novelty license plates; cribs; baby bouncers; baby changing mats; baby changing tables; baby walkers; mattresses, mattress toppers; cushions; nursing pillows; foot stools; nonmetal and non-paper containers for storage or transport; playpens; play yards (Class 20) |
| SKKN BY KIM | | Toiletry bags sold empty; toiletry cases sold empty; cosmetics bag sold empty; cosmetic carrying cases sold empty; tote bags; all-purpose carrying bags; back packs; handbags; tote bags; purses; wallets; bags for carrying babies' accessories; diaper bags; athletic bags; duffle bags; umbrellas (Class 18) |
| SKKN BY KIM | | Calendars; books, magazines and periodicals in the fields of music, entertainment, children's entertainment and popular culture; decals; photographs; photo albums; pictures; posters; scrapbooks; stationery; stickers and transfers; writing utensils; collectible trading cards (Class 16) |
| SKKN BY KIM | | Clocks; jewelry; watches; keychains; Hair ornaments being jewelry for use in the hair (Class 14) |
| SKKN BY KIM | 90613345 | Hairdryers; hairdryer diffusers; lamps; lighting fixtures; multi-purpose, electric countertop food preparation apparatus for cooking, baking, broiling, roasting, toasting, searing, browning, barbecuing and grilling food; appliances for domestic use, namely, temperature-controlled wine cellars; convection ovens; microwave ovens (Class 11) |
| SKKN BY KIM | | Electrically-powered apparatus for treating skin by applying sonic vibrations to the skin; cosmetic apparatus using ultrasound for performing aesthetic skin treatment procedures; facial toning machines for cosmetic use; foam massage rollers; facial massagers; body massagers (Class 10) |
| SKKN BY KIM | 90613269 | Downloadable computer application software for sharing information on social media; downloadable computer software for use in playing, organizing, downloading, transmitting, manipulating, and reviewing audio and multimedia files; downloadable computer software for use in the delivery, distribution and transmission of digital music and entertainment- related audio and multimedia content; downloadable computer software for creating searchable databases of information and data for peer-to-peer social networking databases; downloadable computer software for enabling transmission, storage, sharing, collection, editing, organizing and modifying media content; downloadable computer programs for video and computer games; electronic publications, namely, magazine and periodical featuring entertainment, musical entertainment, popular culture and variety of topics recorded on computer media; digital media, namely, downloadable audio and video recordings featuring entertainment, musical entertainment, popular culture and variety of topics; downloadable ring tones, graphics and music via a global computer network and wireless devices; downloadable computer software featuring digital trading cards; eyewear; sunglasses; eyewear cases; sunglass cases; mobile phones; cases for mobile phones; fitted plastic films known as skins for covering and protecting electronic apparatus, namely, mobile phones; computers (Class 9) |
| SKKN BY KIM | 90613243 | Curling irons; flat irons; electric hand held styling irons; manicure implements, namely, nail files, nail clippers, cuticle pushers, tweezers, nail and cuticle scissors, and nail buffers; eyelash curlers; hand-operated cooking and kitchen appliances for dicing, mincing, slicing, and chopping food; hand-operated cooking and kitchen appliance for peeling food, namely, hand-operated vegetable peelers and hand-operated fruit peelers; hand-operated cooking and kitchen appliance for tenderizing food, namely, a kitchen mallet; hand-operated food processor; hand-operated grilling appliances, namely, meat pokers in the nature of a pronged instrument for holding meat; flatware, namely, knives, forks and spoons; table cutlery, namely, knives, forks and spoons; knives, namely, kitchen knives, filleting knives, household knives, chef knives; blade sharpeners, namely, knife sharpeners; fire tongs; curling irons; flat irons; electric hand held styling irons (Class 8) |
| SKKN BY KIM | 90613211 | Vitamins; dietary and nutritional supplements; nutritional supplement drinks in the form of liquid and powdered drinks; medicated lotions and creams for treating dermatological conditions; medicated dermatological preparations and substances; medicated hair care preparations; medicated mouthwashes and toothpaste; probiotic supplements; nutritional supplements; adhesive bandages (Class 5) |
| SKKN BY KIM | 90613195 | Candles (class 4) |
| SKKN BY KIM | 90613170 | Fragrances; eau de parfum; eau de toilette; perfumes; hair care preparations; hair styling preparations; non-medicated skin care preparations; skin moisturizers; skin lotions; skin creams; skin cleansers; skin toners; facial scrub; body scrubs; non-medicated skin care preparation, namely, facial mists; non-medicated skin care preparation, namely, skin serums; skin masks; non-medicated skin care preparation, namely, facial balms; facial oils; body oils; skin care preparations, namely, skin peels; body powders; bath and shower gels; bubble bath; deodorant for personal use; lip balm; lip gloss; nail polish; nail polish remover; nail care preparations; cosmetics; cosmetic preparations; room fragrances; air fragrance reed diffusers; scented oils; essential oils; nail art stickers; artificial eyelashes; eyelash adhesive; cleaning preparations; cleaning solutions and spray for cleaning makeup and skincare tools and accessories (Class 3) |
As these applications were filed just two months ago, none have undergone an initial examination in the USPTO.  Given that the current first action pendency of five months, which is the period of time between the application filing date and date of the examining attorney's first office action, these applications are not likely to be reviewed until sometime in August or September 2021.
Applications of SKKN BY KIM covering skin care products and skin care services (classes  3 and 44)
Upon examination in the Trademark Office, the term SKKN is not likely to be found descriptive although the pronunciation of this term could  be "SKIN."  While the word SKN has been typically found descriptive or even generic in applications covering goods and services related to skin care https://www.ascendcenter.com/studio/popups, there is no evidence that the term SKKN will subject to a similar finding.  In looking at the numerous applications and registrations of marks containing the term SKN in class 3, the word "SKIN" was disclaimed apart from the mark on the ground that SKN is considered to be the phonetic equivalent of the descriptive term SKIN. A novel spelling or intentional misspelling will still be found descriptive if purchasers will perceive the different spelling as the equivalent of the descriptive word.  TMEP §1209.03(j).  As evidence in support of the disclaimer in many of these class 3 applications of marks containing SKN, the examining attorney attached evidence that SKN is an abbreviation of SKIN.  See the examining attorney's evidence consisting of a listing from https://www.abbreviations.com/SKN in support of finding that the term SKN is descriptive of skin care, cosmetic and body products.as: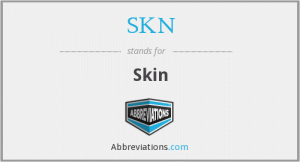 Contrast this with the term SKKN in Princes Kim's applications of SKKN BY KIM:  SKKN appears to be a play on the descriptive term "SKIN" while also incorporating her KK initials (after dropping the W from her name). Very clever branding indeed!
Moreover, the examining attorney is unlikely to find sufficient evidence that SKKN is a common abbreviation of the descriptive term "skin" or other descriptive significance.  In checking the sources that the examining attorney referenced in finding the term SKKN descriptive, there is no similar abbreviation evidence for SKKN as can be seen at https://www.abbreviations.com/SKKNAccordingly, the applications of SKKN BY KIM are not likely to encounter any disclaimer issue.
Third party's use and pending applications of SKKN
In searching the USPTO database, SKKN BY KIM may be the only listing for a SKKN mark in class 3 but there is a recently-filed application of the mark SKKN+, which may be problematic to some of Kim's applications.  Here are the details: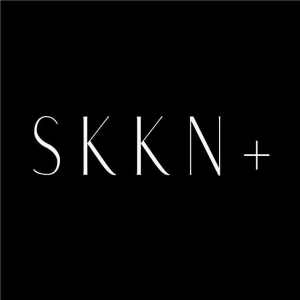 | | |
| --- | --- |
| Word Mark | SKKN + |
| Goods and Services | IC 044. US 100 101. G & S: Skin care salon services; Cosmetic skin care services; Beauty spa services; Skin care services; Beauty salon services. FIRST USE: 20180801. FIRST USE IN COMMERCE: 20180801 |
| Serial Number | 90608147 |
| Filing Date | March 28, 2021 |
| Current Basis | 1A |
| Original Filing Basis | 1A |
| Owner | (APPLICANT) Beauty Concepts LLC TA SKKN PLUS LIMITED LIABILITY COMPANY D.C. 323 I ST NE Washington D.C. 20002 |
| Description of Mark | The mark consists of capitalized white letters S K K N with a plus sign + at the end of the letters. |
| Type of Mark | SERVICEMARK |
| Register | PRINCIPAL |
| Live/Dead Indicator | LIVE |
Unfortunately for Kim, this application of SKKN+ covering skin care and beauty salon services in class 44 was filed just two days before the filing date of all 19 applications of SKKN BY KIM!  Beauty Concepts LLC filed its application based on use in commerce on March 28, 2021 – two days earlier than the March 30, 2021 filing date of Princess Kim's 19 applications.  Not only does this application have an earlier filing date than SKKN BY KIM, but also claims that the mark SKKN+  has been used interstate commerce as early as August 1, 2018, in connection with skin care salon services.  A copy of the screenshot of the website of https://www.skknplus.com/ submitted in support of the use of SKKN+ by Beauty Concepts is reproduced below:
At the very least, Kim's applications covering classes 3 and 44 (and possibly additional applications covering related classes of goods) are likely to be suspended until Beauty Concepts' earlier-filed application either issues to registration or abandons.  According to the Trademark Manual of Examining Procedure, the addition of "BY KIM" to the otherwise highly similar SKKN marks will most likely not be sufficient to overcome a potential refusal.  The likelihood of confusion is not necessarily avoided between otherwise confusingly similar marks merely by adding or deleting a house mark or other distinctive matter; if the dominant portion of both marks is the same. TMEP 1207.01(b)(iii). Should the examining attorney find that the term SKKN is descriptive as used on skin care-related goods and services, Princess Kim can successfully argue that "BY KIM" is the more dominant portion of the mark for purposes of branding and trademark significance.
If Beauty Concepts ultimately obtains registration for SKNNN+ and any of Princess Kim's applications are refused on the ground of a likelihood of confusion, she may wish to request a letter of consent from Beauty Concept's.  As can be seen from the Trademark Trial and Appeal Board's database at https://ttabvue.uspto.gov/ttabvue/,  the Kardashian sisters are no strangers to filing interparty proceedings with the TTAB in actively enforcement of their rights in their brands.  Not surprisingly, most of the disputes end up with a default judgement in favor of the Kardashians.
Of much less interest and relevance, there is a second recently filed application of the mark SKKN filed six weeks after the filing date of SKNN BY KIM. See below: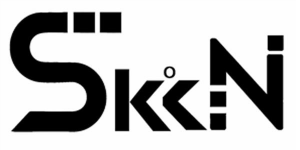 | | |
| --- | --- |
| | |
| Goods and Services | IC 018. US 001 002 003 022 041. G & S: Leather bags and wallets; Leather bags, suitcases and wallets. FIRST USE: 20180925. FIRST USE IN COMMERCE: 20210501 |
| Serial Number | 90712601 |
| Filing Date | May 14, 2021 |
| Current Basis | 1A |
| Original Filing Basis | 1A |
| Owner | (APPLICANT) Kalra Kamal D INDIVIDUAL UNITED STATES 340 E 1st, #1289 Tustin CALIFORNIA 92781 |
| Description of Mark | The mark consists of The KK in the mark represent the initials of the owner Kamal Kalra and the S and N have personal religious values for the owner. |
| Type of Mark | TRADEMARK |
| Register | PRINCIPAL |
| Live/Dead Indicator | LIVE |
Although this later filed application of covering leather bags, suitcases and wallets has a later filing date, the application asserts a date of first use of September 24, 2018, which is earlier than the filing date of Kim's.  Although Kim's application does not claim that her initials "KK" in the mark represent Kim Kardashian, this application claims that the KK represents the name of the applicant and "S" and "N" have religious values.  Unfortunately, claiming a personal stake in a mark does not bestow any special trademark superpowers.  While Kamal has common law rights in since 2018, the alleged interstate commerce use of May 1, 2021, would preclude any potential inter-party TTAB dispute with Kimisaprincess.
Meanwhile, Kim does not yet appear to be using SKKN BY KIM on any of the goods or services covered in these applications.  As a condition to registration of any of these intent-to-use applications, Kimsaprincess will have to submit legitimate use of SKKN BY KIM in each of the respective applications.  The good thing is that there is plenty of time to figure that out.
Of course, this is all mere speculation of a probable examination of the SKKN BY KIM applications but it is certainly fun for this former examining attorney trying to keep up with the Kardashians in the USPTO.
Donna L. Mirman is a former trademark examiner with the U.S. Patent and Trademark Office and currently counsels clients on brand selection, trademark enforcement and prosecution of trademarks in the U.S. Patent and Trademark Office.
.