Over the last several years, ugly Christmas sweaters have become big business.  The company Tipsy Elves appeared on the show Shark Tank back in 2012, and since that time has generated over $70 million in sales.  From October 1 to December 10, 2019, listings of ugly Christmas sweaters on the resale site Poshmark increased 44 percent compared to last season. As another example, the aptly named UglyChristmasSweater.com has seen its own sales grow by more than 10% each year since 2012.[i]
With higher sales come higher stakes, and this has manifested itself in some copyright litigation relating to these ugly delights.  While most people associate copyright protection with film and music, it also extends to creative works like designs on clothing.  In the past decade, courts in this country have been inundated with thousands of lawsuits for copyright infringement brought by the owners of fabric designs.  There are a few examples of lawsuits where the designs on ugly Christmas sweaters were the works at issue, and we can use one case to illustrate the standard for how copyright infringement actions are adjudicated.
In 2015, Kim Kardashian had a memorable photo shoot for Paper Magazine which aimed to "break the internet".  In one of the photographs, she held a glass of open champagne in her hands which was spouting over her head and into a champagne glass balanced on top of her behind.  In a nod to Ms. Kardashian's photograph, Tipsy Elves designed and sold this sweater featuring Santa in a similar position, as shown below-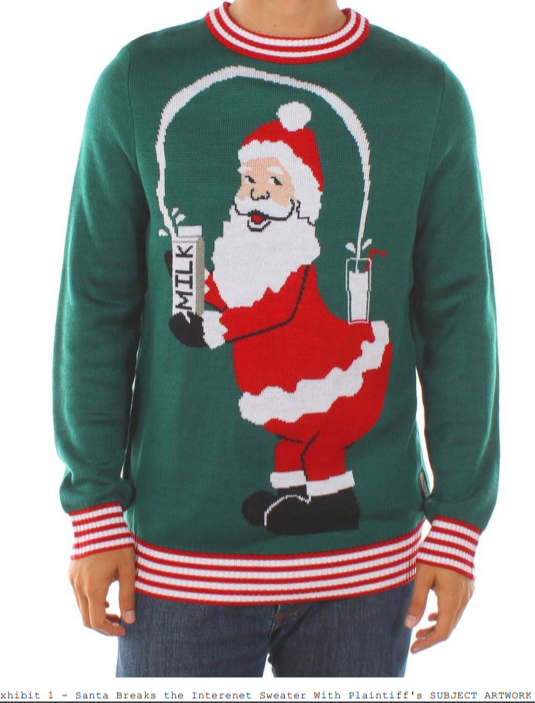 After Tipsy Elves commenced sales of the sweater, they discovered that Macy's was selling the following sweater designed by a company called Mighty Fine—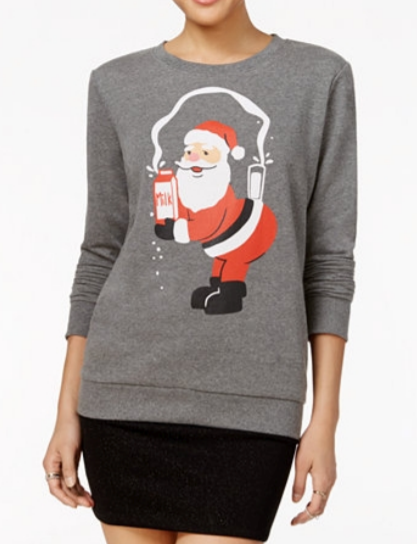 Tipsy Elves then filed a lawsuit in a California district court asserting copyright infringement of its Santa design.  The case was settled between the parties quickly, but we can discuss how the claim for direct copyright infringement against Mighty Fine would have proceeded if the case had proceeded to trial.
In order to establish its claim of copyright infringement, Tipsy Elves would first have to show that it owned a copyright in the design used on the sweater and that Mighty Fine copied the original elements of the design.  Broken down further, Tipsy Elves would establish ownership of the copyright by proving the originality and copyrightability of their Santa design, and that they had complied with statutory formalities.  In this instance, Tipsy Elves had obtained a timely certificate of copyright registration of the work, which entitled them to a presumption that they owned the copyright and that the copyright was valid.
To prove that Mighty Fine copied the sweater design Tipsy Elves would have to prove two sub-elements: (1) that Mighty Fine actually copied the quilts, and (2) that there is substantial similarity between the original elements of Tipsy Elves' design and Mighty Fine's design.  "Actual copying" can be proved by direct or indirect evidence.  Indirect evidence includes whether or not there is proof of access to the copyrighted work (e.g. Mighty Fine had purchased Tipsy Elves' sweater), similarities between the works that would prove copying and/or expert testimony.
If Tipsy Elves was able to establish its claim for copyright infringement, they could be entitled to damages and the profits from the sales of Mighty Fine's sweater.  In addition, in cases where the plaintiff obtained a timely copyright registration, they could opt to be awarded damages in amounts provided under the Copyright Act up to $30,000 for a single infringement, and up to $150,000, in cases of a willful infringement!  As if that were not enough punishment, the infringers would also have to deal with landing on Santa's naughty list.
[i] https://www.foxbusiness.com/lifestyle/ugly-sweaters-christmas-businesses-money